Hey, this is my 'Me' page. I figured instead of writing a hundred paragraphs about myself I'd just write a big-assed self interview. Enjoy!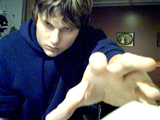 ---
---
Bottom of page


§§§
NAME :Matthew Travis Carter

NICKNAME(s): Mr. Breadman

BIRTH DATE:11/21/83

JOB (IF ANY):milking cowís.. (not really) Computer Technician Poser

FAVORITE SPORT(s): Extreme Chair Sitting

FAVORITE TV SHOW(s): Greg the Bunny/Blues clues

FAVORITE MOVIE: HE-MAN and the MASTERS OF THE UNIVERSE.... and Con Air

FAVORITE MOVIE STAR: Robin Williams / Nicolas Cage

IF YOU COULD BE ANY AMINAL, WHICH ONE WOULD YOU BE: Cat, Sheep dog, Octipuss, or a sock puppet dog like Hush Puppy on "lamb chop's play along"

IF YOU COULD MARRY A SUPERSTAR WHO WOULD IT BE: Ali Landry

FAVORITE COLOR: Green

FAVORITE FOOD: Jello!

IF YOU WERE A FLOWER WHICH ONE WOULD YOU BE? The kind you bake with.

DO YOU SPEAK SPANISH: Nope

DO YOU SPEAK FRENCH: I can say bus and cat in French...

WHAT IS YOUR FAVORITE CARTOON: Undergradís and The Incredible Hulk

IF YOU HAD YOUR ARM CUT OFF HOW WOULD YOU FEEL: in pain.

SHAVE YOUR HEAD FOR $1,000 DOLLARS: Iíd do it for free in most cases just don't ask...

WOULD YOU GO UP AND RANDOMLY KISS SOME ONE FOR 50 BUCKS: yes..

WOULD YOU EVER KILL SOMEONE: no way, i have no hands on experience in that field of work..

WHAT IS THE WORST MOVIE YOU HAVE EVER SEEN: The Grinch.. I'd watch anything but that's gotta be the first I actually turned off from being so disgusted

WHAT IS THE WORST TV SHOW YOU'VE EVER SEEN: Teletubbies

HOW MANY FINGERS DO YOU HAVE: The correct number.

DO YOU SHAVE: yeah... gotta!

DO U WEAR UNDERWEAR: Guy thong's (not really) boxer's

DO YOU WEAR SOCKS TO YOUR KNEES: Sometimes... Iím old school!

DO YOU PREFER CHOCOLATE OR VANILLA CAKE: Vanilla ice cream cake

DO YOU LIKE SCHOOL: Um....

A FREE VACATION WHERE WOULD YOU GO: To meet Steve the Crocodile Hunter, Or a mighty duck's hockey game in which they would win the gold medal in sum sport other than hockey.

DO YOU LIKE ROLLARCOASTERS: Sure do!

HOW MANY KIDS DO YOU WANT: A few I guess.

HOW MANY TIMES HAVE YOU BEEN KICKED OUT OF SCHOOL: By bullies?

HAVE YOU EVER BEEN WATER-SKIING?: No, but I fell out of a speed boat once.

WOULD YOU GET IN A SHARK TANK?: Only if the shark wasn't in there at the same time as me.

DO YOU WEAR A WATCH?: Yep

WHICH HAND DO WOULD YOU WEAR IT ON?: my ankle when i'm bored.

DO YOU HAVE A CAR: yea.. 1990 Cavalier

DO YOU LIKE CATS: sure do.

HAVE YOU EVER CAUGHT A FISH: on Nintendo..

DO YOU LIKE PIZZA: how can I not?

HAVE YOU EVER BEEN IN LOVE: yes

DO YOU LOVE SOMEONE RIGHT NOW: I love julia roberts... (not really, but it would be cool if i did(not really))

DO YOU SHOWER OR TAKE BATHS: Showers

HOW MANY TIMES DO YOU WASH YOUR HAIR A DAY: I donít do it everyday. Cause its too hard to get my hair to go right again.. Like once every two dayís..

DO YOU PREFER PEPSI OR COKE: Pepsi-cola

DO YOU BELIEVE IN GHOSTS: I believe Casper is a homosexually friendly ghost.

RIGHT OR LEFT HANDED: right

DO YOU LIKE KNOWING MORE ABOUT YOUR FRIENDS: yes.

DO YOU HAVE A GOOD SENSE OF HUMOR?: itís the base on which I live..

WHAT IS ONE THING YOU CAN'T DO: get pregnant

ARE YOU AFRAID OF DYING: I dyed my hair blonde once so its no big deal.

WHAT IS ONE WORD THAT YOU THINK IS OVER-USED?: ďtheĒ

DO YOU LIKE WHERE YOU LIVE : Yes, sir.

WHAT IS YOUR BIGGEST PET PEEVE?: Ignorant people who think they're right. (I wouldn't care if the person isn't ignorant)

WHAT ARE YOUR FAVORITE SONGS?: Love RollerCoaster(Red Hot Chilli Peppers), It's Going Down(X-Ecutioners & Linkin Park), Shut Up(Blink-182) and.. I'll think more later...


§§§